8 mm Remington m/1867-1889
The firing pin was redesigned to always retract to the block and an ejector for the cartridge was equipped. Bolts for hammer and bolt were strengthened. Due to the ejector the rate of firing was increased to 6-7 shots per minute compared to 5 for m/1867.
Cartridges m/1889 (8x58 mm RD) had 4.7 gram (73 grain) compressed black powder and a 30.7 gram (476,4 grain) heavy copper jacked bullet with a diameter of 8.25 mm (0.33 inches) and 57 mm long (2.24 inches) brass case in bottle shape with a rim and central firing cap. The velocity was 535 m/s or 1755 FpS.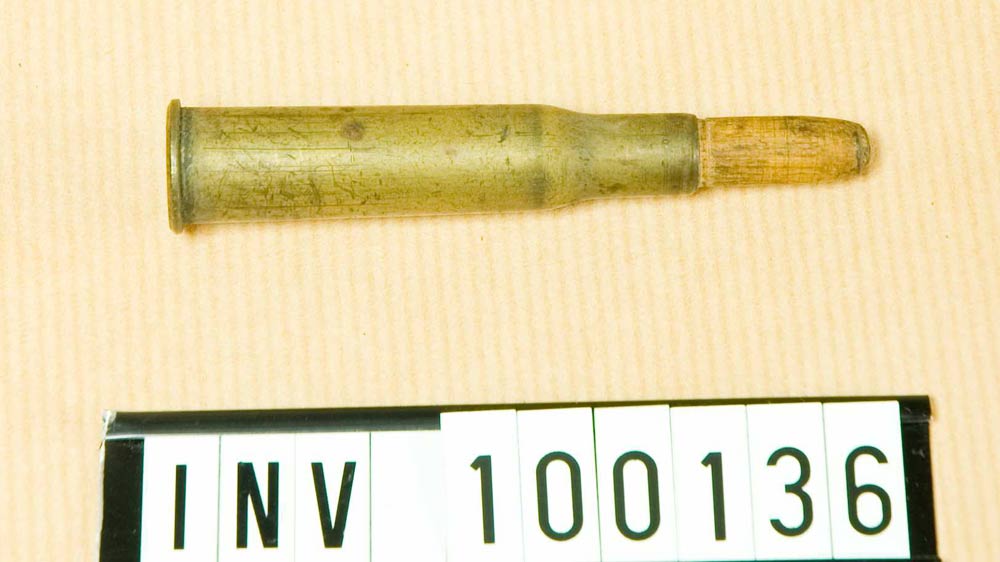 8x58 mm (picture AM100136)
---
1892 the black powder was exchanged for more modern powder – "apyrit" or grey powder. This gun powder gave the bullet a velocity of 630 m/s or 2067 FpS.
The Rifle m/1867-1889 was a good solid rifle with good accuracy but it soon became obsolete because it was a single shot rifle and lacked a magazine.
The cavalry was the first unit which realized the advantages with more than one shot. Up until 1893 this unit was stuck with the old carbines m/1870 but 1894 they accepted the first Swedish Mauser m/1894 in caliber 6.5x55 mm.

Swedish Mauser Carbine m/1894 (6.5x55mm)