General Purpose Machine Guns of Sweden
updated 2020-04-30
Before KSP 58 - FN MAG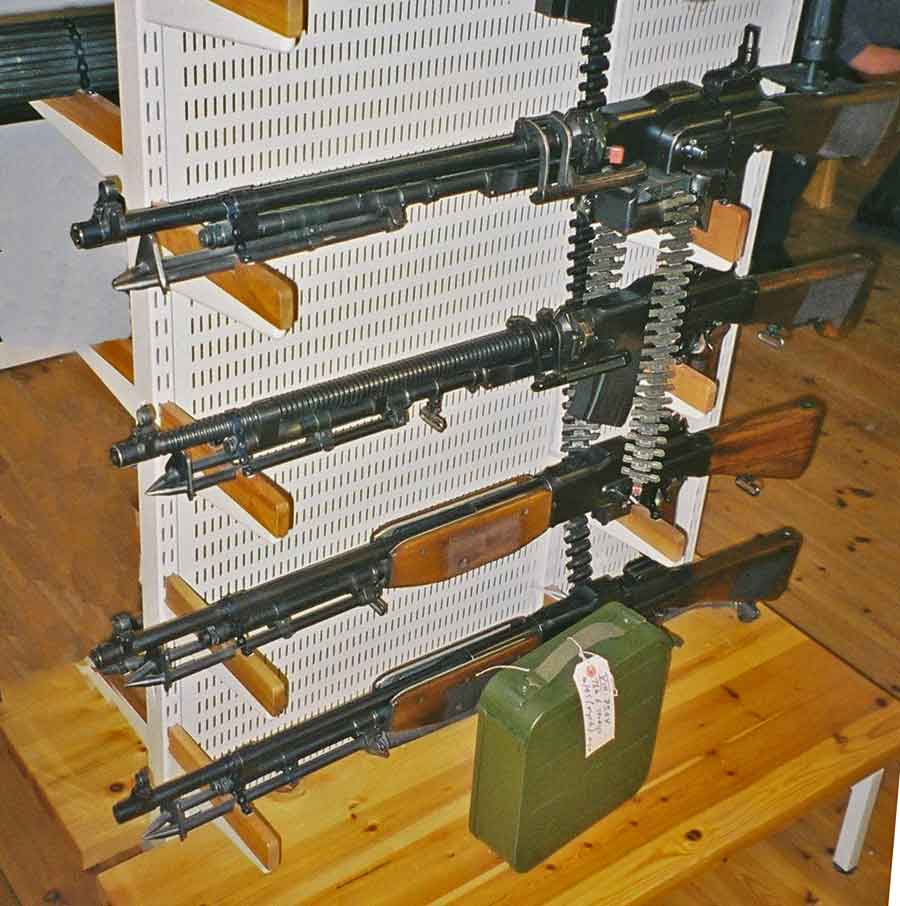 On top a very smart rebuilt Kg m/37 for belt feeding called LMG from Dahl's regiment. (private picture)
Kulspruta 58,
KSP 58 - FN MAG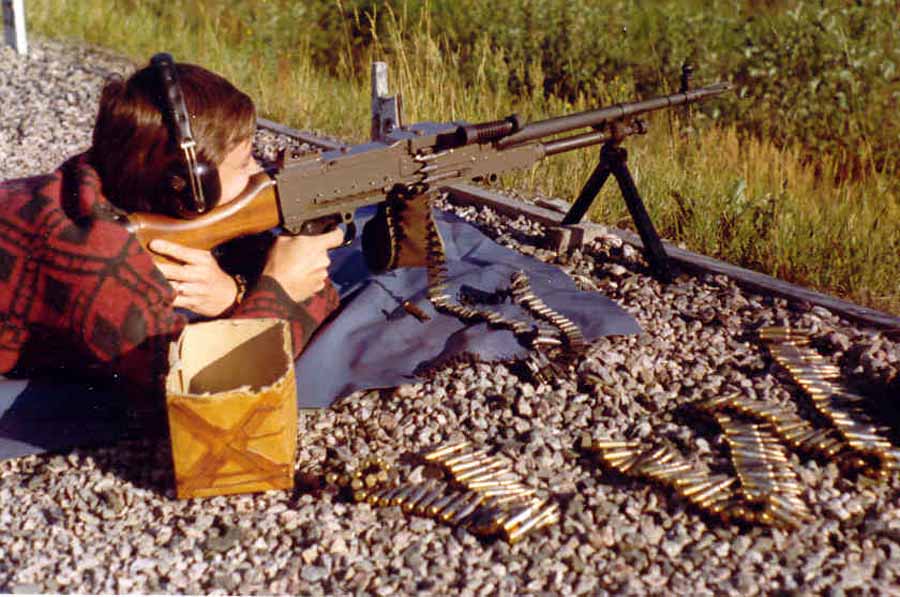 KSP 58 with 6,5x55 mm ammunition (m/94 prj m/41) (private picture)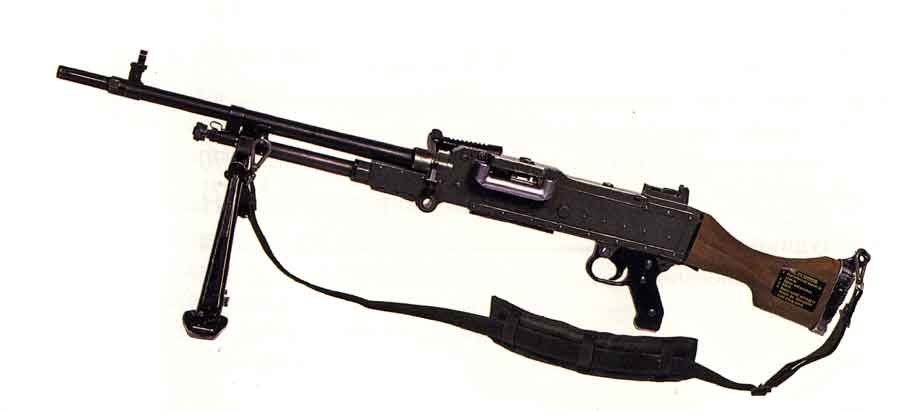 KSP58 B with improved gas valve.
Ksp 58 exists with both 6.5 mm barrels and 7.62 mm barrels.

The first type of gas regulator was original FN type. Later the FN type of gasregulator was improved and the type B regulator was installed first on all FN made Ksp 58 (serial number below 3 000).

All 7.62 mm barrels are equipped with gas regulator B.

The pictures below comes from the Swedish army manual V118.

Gas regulator of FN type
KSP 58 barrel with gas regulator of FN type
Gas regulator B type

KSP 58 barrel with gas regulator B type
Technical data:
GP MG - Kulspruta 58, KSP 58
Calibre
6,5x55 or 7,62x51
Ammunition
6,5 mm m/94 or 7,62 mm ptr 10
V0
830-850 m/s
Feed

Steel links with 50 to be connected.

Rate of fire
600-850 rpm
Design
Fabrique Nationale MAG
Action
Gas operated
Firing modes
Full auto
Manufacturer
FN
Carl Gustaf GF
Year of delivery
1958 -
Quantity
FN - 3 000
Carl Gustaf - N/A
Barrel
600 mm 4 grooves without flash hider
680 mm 4 grooves with flash hider
Length
1275 mm with flash hider
Length
1195 mm without flash hider
Weight w. bipod
11,6 kg
Front Sight

Folding front sight with covered post.

Rear Sights
200-1400 m in Ghost-ring position
300 - 1 400 m with U-shaped sight in standing position.
Other sights
Red dot sight
Effective range
1 100 m
Practical range
600
Miscellaneous
Ksp m/58 B; improved gas valve
Ksp m/58 Strv; used in tanks
Price
Acc.

replacement cost US Navy $ 7 000.

Status
In service
---
Ksp 58 DF
GP MG - Test model
To the left - KSP58 DF with folding stock.

(F stands for Test model)

Some facts about Ksp 58D

Pictures and information with courtesy of Anders Arvidson at the Swedish Homeguard

The Swedish defence forces are making test with a modification of the LMG Ksp 58B. The large stock of Ksp 58 needs to be modified to better fit the Swedish army of today.

The new modification is called Ksp 58 D and has following modifications:

Red dot sight (Aimpoint)

Collapsible butt stock or folding stock.

100 mm shorter barrel

Better and shorter flash hider to reduce the length of the weapon and make the muzzle flash less, not to disturb the view of the shooter by night

Fluted barrel in order to reduce the weight and better distribute the heat of the barrel.

The carrying handle is shortened to half its original length. This was necessary to be able to have extended MilStd 1913 rail for sight systems

Cassette (pouch) for ammo contains 100 cartridges (before 50).

Gas regulator has only 4 settings (instead of 8). The last position is painted red and is intended for emergency use.

New ammo cases

New equipment bags

A Milstd 1913 rail system added. Half of the weapons has an adjustable rail - the others a fixed

Bipod is painted green

There is a sheet for protection / one side green other side white / summer & winter camouflage.

The weight of the MG is the same

The weight of entire system is 3 kg less

Colours for the LMG were 12 black and 12 green and at least one with different colour.

There are all together 25 pieces of these GP MG. They were finally tested in two different configurations during 2005 at P4 (Tank regiment No 4) before the final version will be spread throughout the Swedish Defence Forces.

Ref.: Mats Lundkvist – weapon officer at Livgardet (which is a joint regiment of infantry and cavalry beside Stockholm).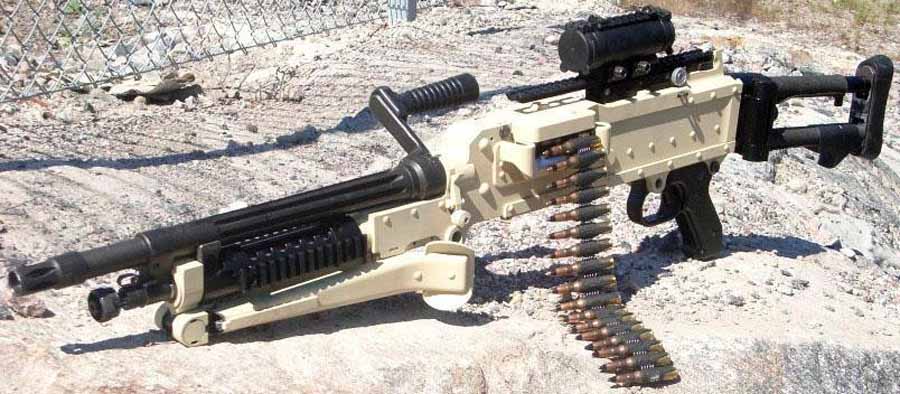 Test model KSP58 D with fluted barrel, no iron sights, folding stock and flexible Picatinny rail system with an Aimpoint.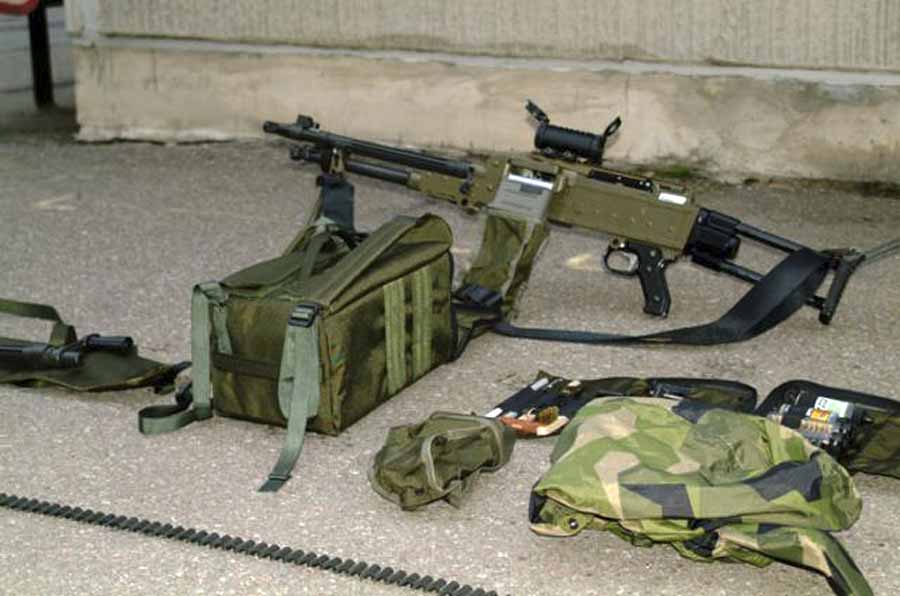 KSP 58 D with collapsible butt stock and its equipment.
Technical data:
Kulspruta 58 D, KSP 58 D
Calibre
7,62x51
Ammunition
7,62 mm ptr 10
V0
810 -830 m/s
Feed
Link
Rate of fire
600-1100 rpm
Design
Fabrique Nationale MAG
Action
Gas operated
Firing modes
Full auto
Manufacturer
SAAB Bofors Dynamics
Year of delivery
2003 -
Quantity
25
Barrel
530 mm fluted barrel with 4 grooves
Length
1180 mm
Weight
11 kg
Sights
MilStd 1913 rail system with Aimpoint.
Miscellaneous

Collapsible butt stock or folding stock.

Status
In service

.
---
Kulspruta 90(B)
KSP 90 and KSP 90 B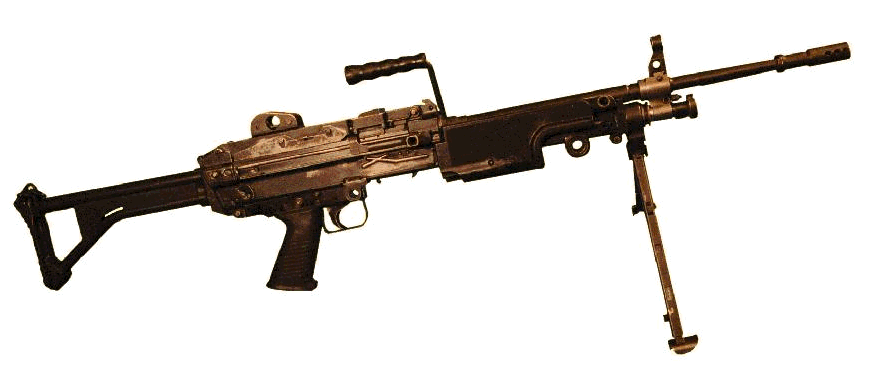 KSP 90 - FN Minimi Std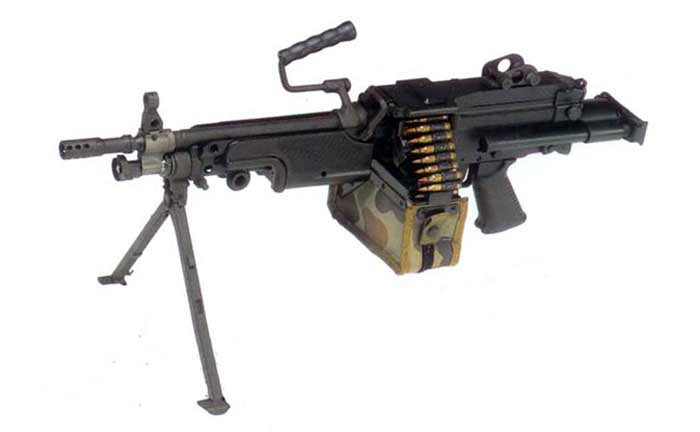 KSP 90B - FN Minimi Para
5,56 mm "KSP 90".
International nomenclature: Fabrique Nationale "Minimi". It is used by the Swedish marines and air force rangers and services aboard like KFOR.
FN Minimi is very popular among the Swedish troops.
There are two versions
Ø KSP 90 – the standard Minimi and
Ø KSP 90B – the The Para model, more compact with shorter barrel and sliding buttstock.
The weapon can be loaded with ordinary AK5 magazines (M16) or disintegrating link
Technical data:
Kulspruta 90, KSP 90 and KSP 90 B
Calibre
5,56 Nato
Ammunition
5,56 Nato
Bullet Vo
930 m/s
Feed
Disintegrating link,

Cassette 200 ctrgs


or 30 shot magazine
Rate of fire
700 to 1 000 rpm
Design
Fabrique Nationale Minimi
Action
Gas operated
Firing modes
Full auto
Manufacturer
FN
Carl Gustaf GF
Year of delivery
1990-
Quantity
NA
Barrel
KSP 90 = 465 mm (for Standard)
KSP 90B = 349 mm (for Para)
Length
KSP 90 = 1040 mm
KSP 90B = 914 mm (retracted 766 mm)
Weight
6.9 kg
Sights
Rear: Ghost-ring and Front folding sight (post)
Miscellaneous
KSP 90 Std Model effectiv range 1 000 m
KSP 90 BPara Model effectiv range 800 m
Price
about 3 200 EURO
Status
In service
Below you can see my son Olof to the far right
in charge of a squad with Swedish military in Kosovo equipped with Ak5 assault rifles
and at his feet two light machine gun KSP 90B (FN Minimi Para).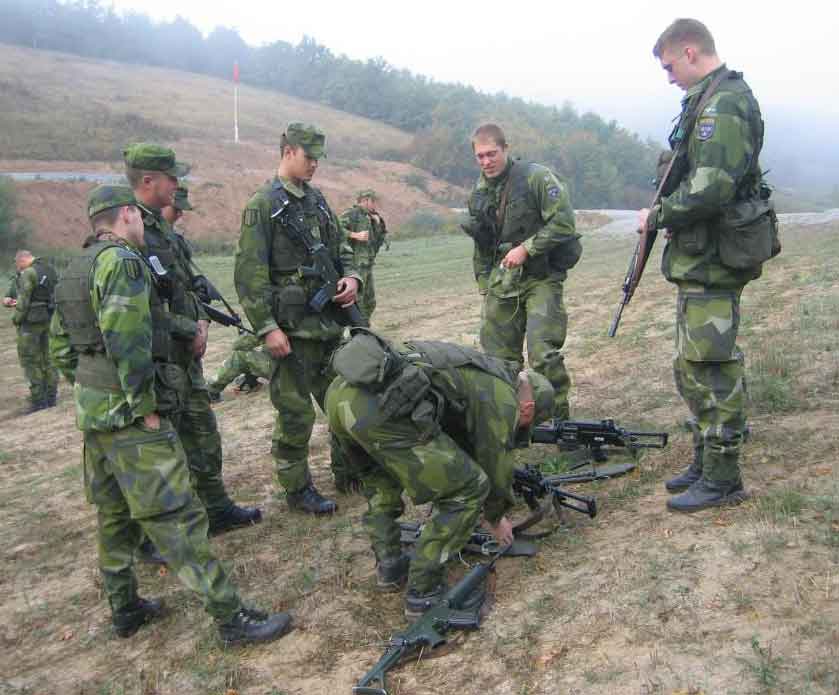 ---
The FN Minimi and US M249
FN Minimi

US M249

KSP 90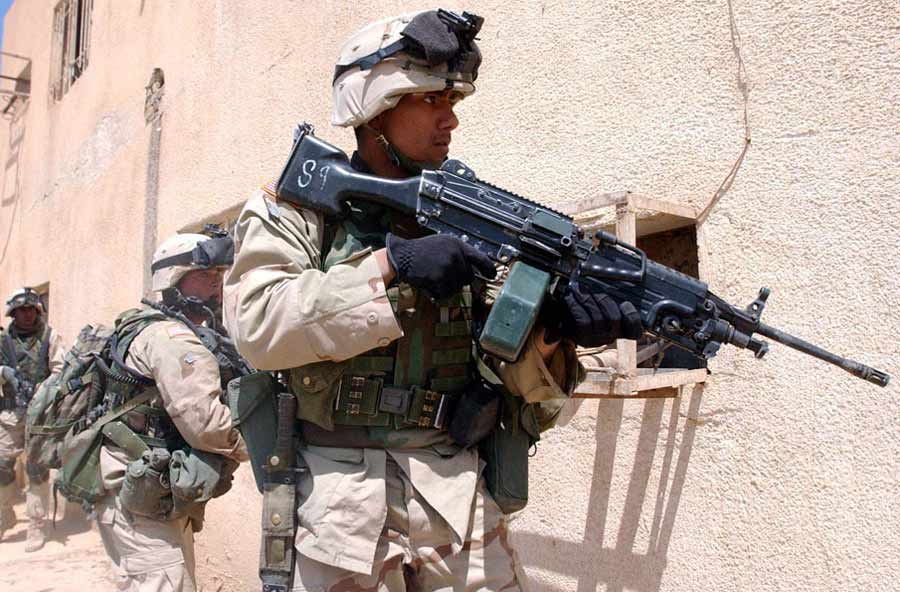 US M249 in Iraq
---
Heavy Machine gun
Browning M2
Tung kulspruta, Tksp, Tung KSP
The well known gun smith
Hakan Spuhr shooting M2

Tung KSP - M2HB QCB
Technical data:
Tung kulspruta, Tksp, Tung KSP
Tillverkare: Fabrique Nationale "M2HB QCB"
Calibre
12,7×99 (.50 BMG)
Ammunition
12,7 mm m/45
Feed
Disintegrating link
Rate of fire
485 - 635 rpm
Firing modes
Full auto and single shot
Design
Browning M4
Action
Short recoil of the barrel
Manufacturer
FN
Barrel
816,5 mm
Length
1460 mm
Weight
24,7 kg
Miscellaneous
Similar to Akan m/39 and m/45
Fitted to Battle boat 90
Status
In service
---
Kulspruta m/1914 or Schwarzlose Machine Gun M1907/12
and m/1914-29.