Just before the start of WW2 there was a lack of arms in Sweden. The army saw the war coming and hurried to buy a number of Light machine guns from Czechoslovakia. The choice was the famous Kulomet VZ/26 with the German 7.92 mm round. Sweden called it kg m/39.
The designers were two Chechs brothers: Vaslav and Emanuel Holek. An Austrian engineer Marek and Polish engineer Podradsky took also part in the construction. The ZB-26 was one of the finest LMG ever developed. Because of the high quality of steel provided by the Skoda plant, spare barrels coul be easily exchanged after full automatic fire. Even red hot barrels of this steel could be dipped in cold water without damaging them. This quick system of changing the barrels was an important feature of this nice design, because after 60-100 full auto shots it was time to change the barrel.
The British Government chose the same gun, which was licened by ZB. They called their gun BREN.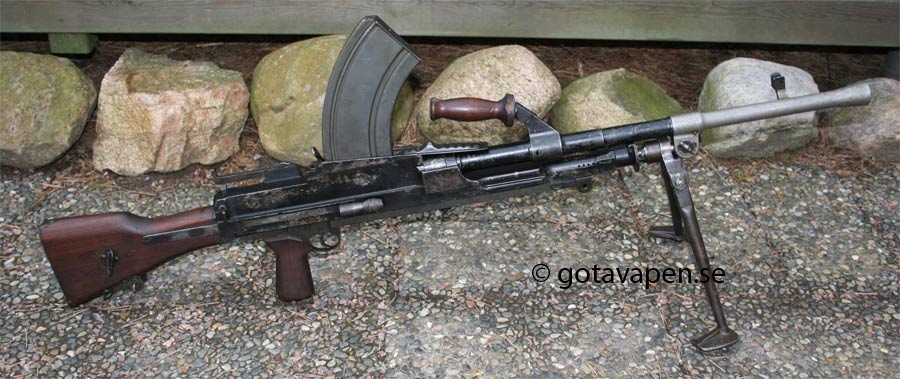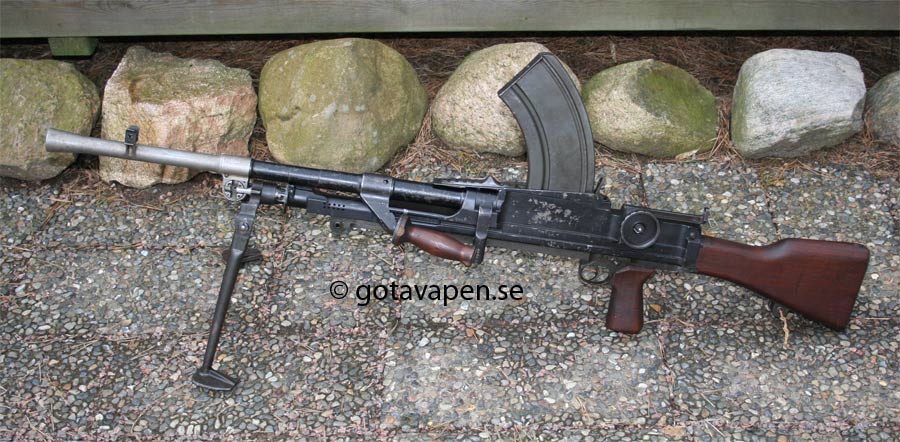 Read about the British BREN here>>>>>
The Swedish LMG m/39 magazine is mounted on top of the gun and holds 20 rounds.
The barrel of kg m/39, which has many cooling flanges and a flash guard, is easy and fast to change.
The mechanism is a development of the BAR but the knee link system is missing. Instead the bolt is locked by being forced up against the ceiling of the receiver. Kg m/39 fires both semi and full auto. When the magazine is empty the bolt remains at the rear end.
The gas cylinder is very long, all the way under the barrel. This feature led to a slow rate of fire which makes the gun easily controlled. The cyclic rate is 500 rpm.
When Sweden bought the Kg m/39, it was issued with the German calibre 7,92x57 mm.
After the war the kg m/39 was rebarrelled for the Swedish 6,5x55 mm.