Above: Submachine gun m/40
January 25, 1940, The Royal Swedish Army ordered 500 Thompson Model of 1928 A Submachine Guns from an authorized agent of the Thompson Automatic Arms Corporation, the AB UNO Lindholm & Co.
Documents show that they had an option for another 3000 guns but it was never used.
Sweden was one of the first countries in Europe to adopt the Thompson.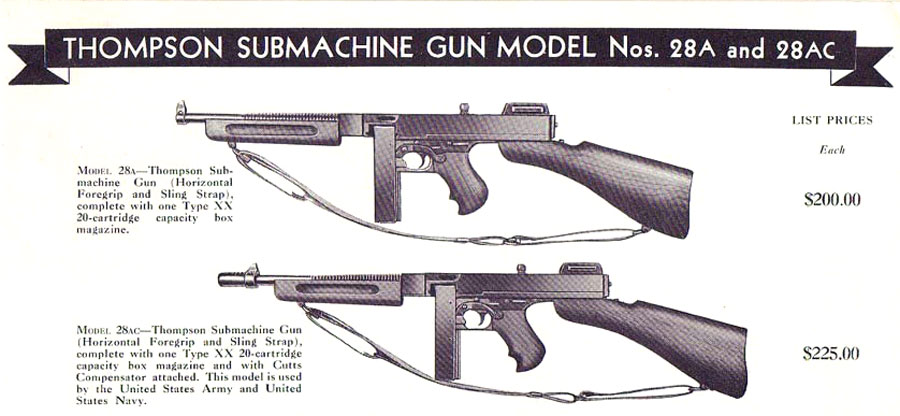 The 500 kpist m/40 or Model of 1928 Thompson's are what is referred to in Auto-Ordnance sales literature and catalogues as the Model of 1928A which isn't fitted with a compensator. The lack of a compensator is almost unique for the Swedish Thompson. It is a very rare configuration.
Even more odd is that they are actually Thompson 1921 and not 1928! It is clearly visible on the remaining m/40 submachine guns that they are stamped 1921 and later re-stamped to 1928A. The digit 1 has been changed to 8A!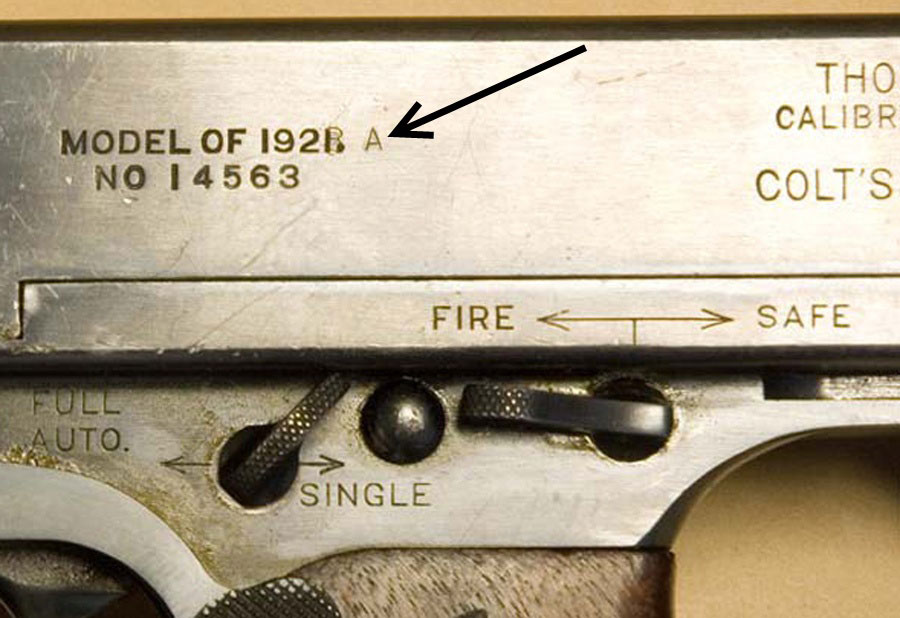 Picture from Armémuseum of re-stamped Thompson 1921 to 1928A
Kpist m/40's were issued primarily to the 1st Military District with Headquarters in Kristianstad in Southern part of Sweden. Infantry regiments I6 Nothern Skanska, I7 Southern Skanska and I16 Hallands Infantry Regiments were issued the kpist m/40.
The Swedish weapon kpist m/40 has an adjustable rear sight in meters! The front handle follows the barrel.
Each gun was supplied with four 20 shot stick magazines and one 50 shot drum magazine.
Colonel (ret.) Stellan Bojerud reports that kpist m/40 was used on May 21, 1940 when a meeting took place in Storlien in Sweden between German GOC (General Officer Commanding) Norway, Colonel-General Nicolaus von Falkenhorst and Swedish Supreme Commander General Olof Thornell. The meeting was held in von Falkenhorst's railway car on the Norwegian side of the Storlien Border Station. In an effort to impress the Germans the body guards of General Thornell were all armed with Thompson Submachine Guns.
This cartridge (11 mm patron m/40) was a stranger in the Swedish armed forces and was never produced here.
Kpist m/40 became soon surplus for Swedish military needs. It was eventually issued to second line units. It is known a Landstormen Infantry Regiment (I181) based on the island of Oland, was issued the kpist m/40. After that, nobody knows for sure what happened to these guns. According to Major (ret.) Carl-Olof Bjorsell the Swedish Thompson's were sold to Israel during 1950:s.