The bayonet types for the rifle Mauser M1898, which are presented here are only the most common and main groups that the German bayonets can be divided into.
I have chosen to divide the bayonets into four main groups:
Bayonet type M1898/05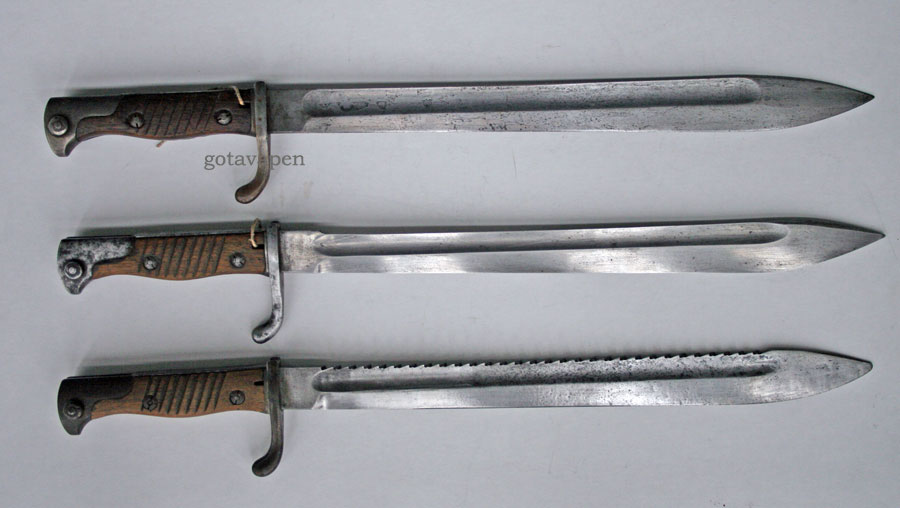 Bayonet M1898/05
The Bayonet M1898/05 should succeed the M1898 long bayonet. It had a much stronger design but was still very long. In the beginning of the Great War it came with high ears and without flash-guard.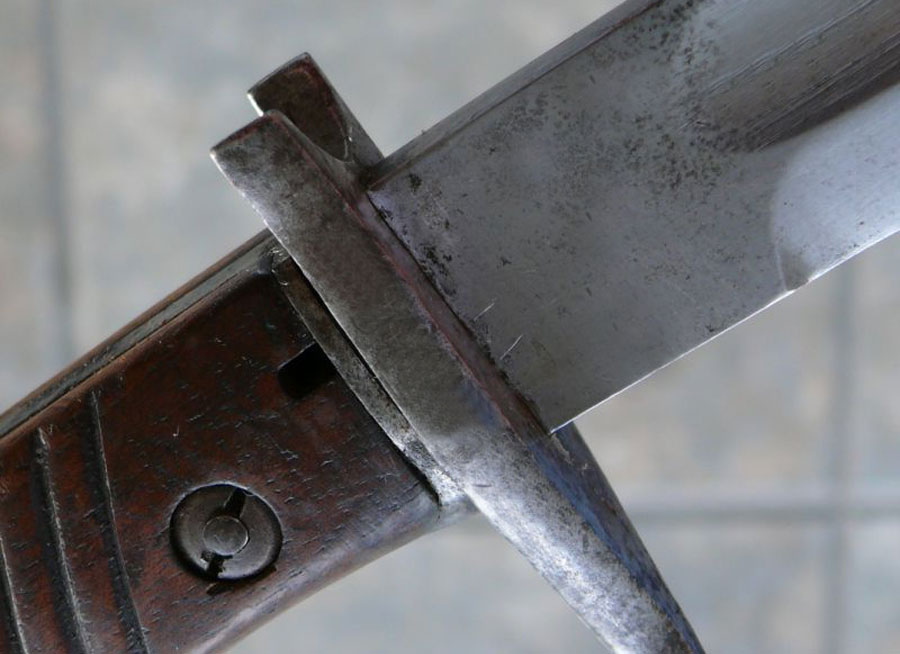 M1898 old Pattern (a.A.) with high ears and without flash-guard for the wooden scales.
Another change on the new Pattern (n.A.) was the addition of a thin sheet of steel as muzzle fire protection on top of the grip. Below you can the flash guard along the back of the grips. This was introduced in 1915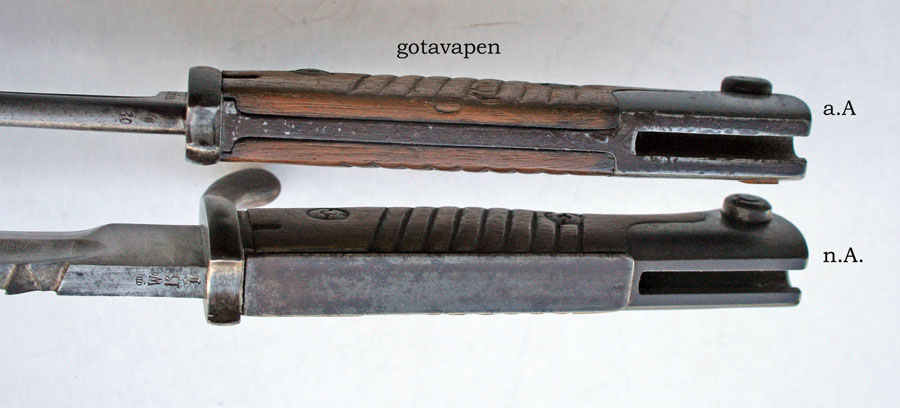 M1898 old Pattern (a.A.) on top and new Pattern (n.A.) bottom (M98/05)
Bayonet M1898/05 sawback
The Bayonet M1898/05 with a saw-back was used by pioneers and machine gunner crews among others. It was suitable for cutting brushes. The sawback was a favoured tool among German Military units. However when used as a bayonet plunged into an enemy it caused horrible injuries!

Bayonet M1898/05 with saw-back.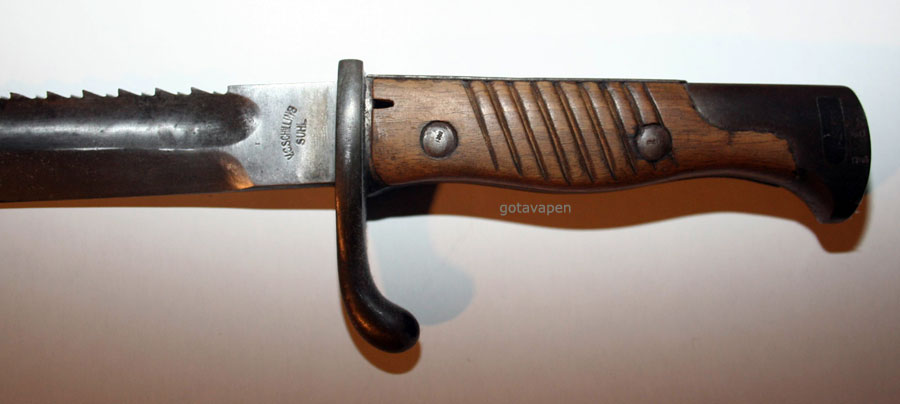 This bayonet from 1915 comes from an old British veteran. He used it as a poker in the fireplace.
He was a retired Major who had survived the Boer War and the Great War. During WW2 he served in the British home guard.
---
The sawback soon became very unpopular on both sides of the frontline. The French and British soldier killed the German soldiers on the spot if not tortured, when they captured Germans carrying such bayonets.
For this reason a German order was issued in 1917, that all sawback bayonets have their sawbacks removed.

Bayonet M1898/05 with removed saw-back.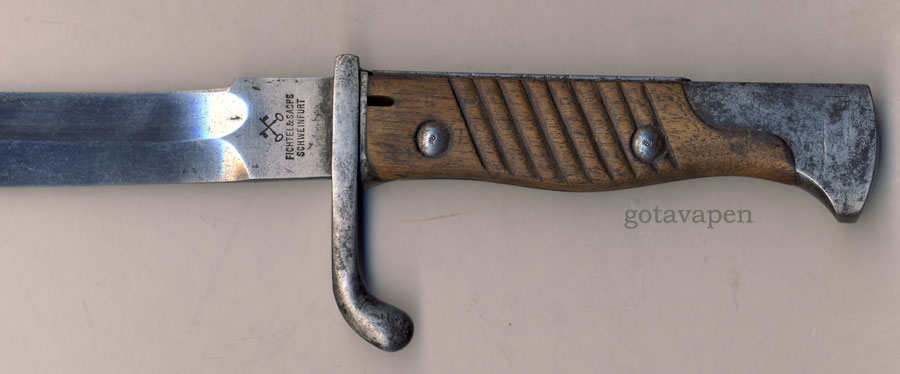 ---
The new productions of M1898/05 were made with smooth back.

Bayonet M1898/05 late production.
Bayonet M1998/05

Length of blade

368 mm

Length over all

500 mm
---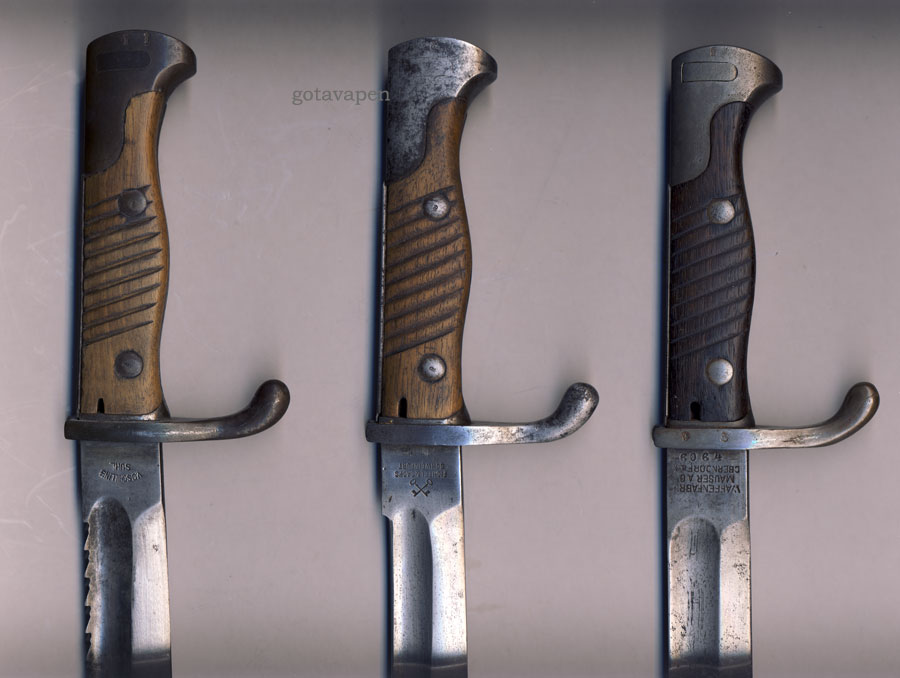 3 Bayonets M1898/05 with saw-back, removed saw-back and late production.
---
References:

Robin Lumsden

Edged Weapons of Hitlerís Germany

John Walther

German bayonet, 1871-1945

George T. Wheeler

Seitengewehr: History of the German bayonet 1919-1945

Fredrick J Stephens

Fighting knives

SVEVAP 1976

Bayonets then and now.