Browning pistol M1903
becomes Swedish Pistol m/1907
Text by O. Janson
updated 2023-01-31
Page 1/4
Army trial 1904
On top FN M1903 and below FN M1900. Two of Browning pistols in the tests made by the mil
itary commissio
n.
The old Swedish 7,5 mm Nagant revolver known as revolver m/1887.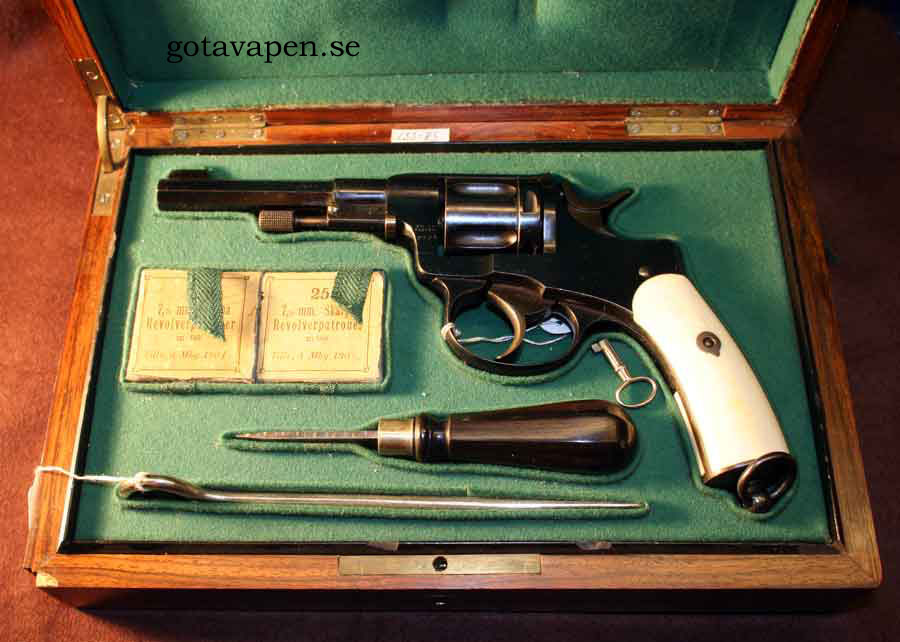 1887 Sweden had adopted a 7,5 mm Nagant revolver known as revolver m/1887.
1904 there was a military commission in Sweden, which searched for a replacement pistol for the Swedish officers instead of the old weak revolver m/1887.
The following pistols were used for this trial were:
Pistol

Calibre

Luger

7,65 mm Luger

Browning M1900

7,65 mm ACP

Colt-Browning

9,5 mm

Mannlicher pistol

7,63 mm

Mannlicher carbine pistol

7,36 mm

Hamilton pistol

6,5

mm

(Swedish construction.)

Browning M1903

9 mm Browning long

Frommer pisto

l

8,00 mm
Specifications 1904 for the different guns and their cartridges:
Weapon
Calibre
Weight
Length
Crtg length
Bullet Weight
gram
Bullet Weight
grain
V10 m/s
V10 fps
Luger
30 Luger (7,65 Para)
0,89 kg
237 mm
30 mm
6,0
93
333
1092
Browning M1900
32 ACP (7,65 ACP)
0,63 kg
163 mm
25 mm
4,6
71
288
945
Colt-Browning
38 Colt Auto
1,00 kg
230 mm
32 mm
8,3
129
295
968
Mannlicher
pistol
7,63 mm
0,83 kg
230 mm
28 mm
5,6
87
270
886
Mannlicher
carbinepistol
7,65 mm
0,99 kg
270 mm
35 mm
5,6
87
341
1119
Hamilton
6,50 mm
1,20 kg
270 mm
30 mm
4,1
64
228
748
Browning M1903
9 mm Brown. Long
0,96 kg
200 mm
28 mm
7,1
110
318
1043
Frommer
8 mm
1,05 kg
275 mm
31 mm
7,4
115
278
912
Revolver m/1887
7,5 mm
0,80
240 mm
35 mm
6,7
104
223
732
The test showed that the two best pistols were the Luger 1900 and the Browning M1903.
The conclusion of the report was that the Luger was superior concerning precision, but the function was less reliable than the Browning M1903, which became very apparent in cold climate.
Hamilton 6,50 mm

(Armémuseum)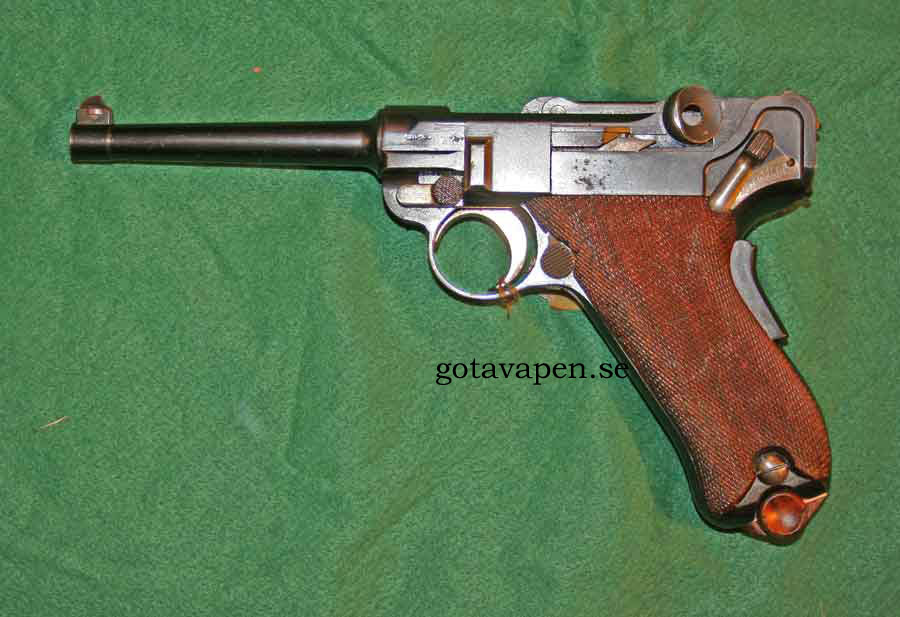 Luger 1900 in 30 Luger (7,65 Parabellum), which was used for the Swedish trial.
In February 1902 John Moses Browning visited FN for the first time. He brought with him the first prototype for M1903. Basically it was an improved M1900 in 9 mm Browning Long (9x20 mm).
There was a great interest to accept a carbine instead of a pistol among high ranking officers 1904. This was one of the reasons that the Mannlicher carbine-pistol took part in these tests. They considered it much easier to hit with a gun hold by two hands compared to a one hold by only one hand.
The thoughts were similar to those in US 1941 for the US Calibre .30 Carbine M1. This interest was also the main reason that the Browning pistol was not accepted until 1907 although the trials were finished within a year.
Considering this interest it would be very likely to find the Browning M1903 with extended wooden shoulder stock taking part in the trial. There is however no report that the wooden stock for M1903 took part in the Swedish tests.
Russia bought several M1903 with wooden stock combination from FN.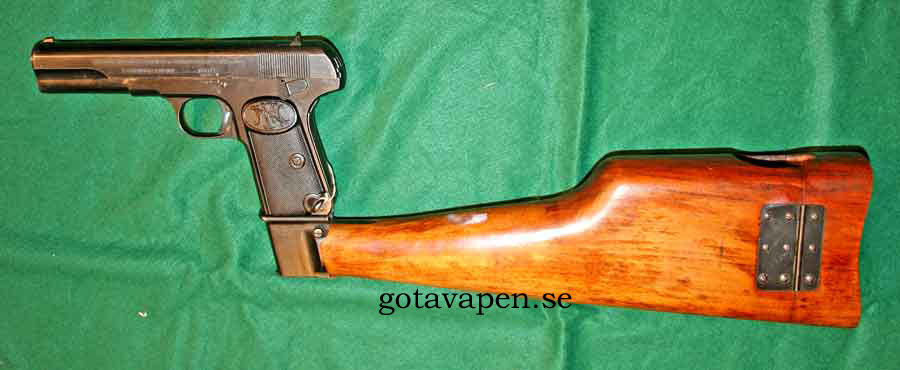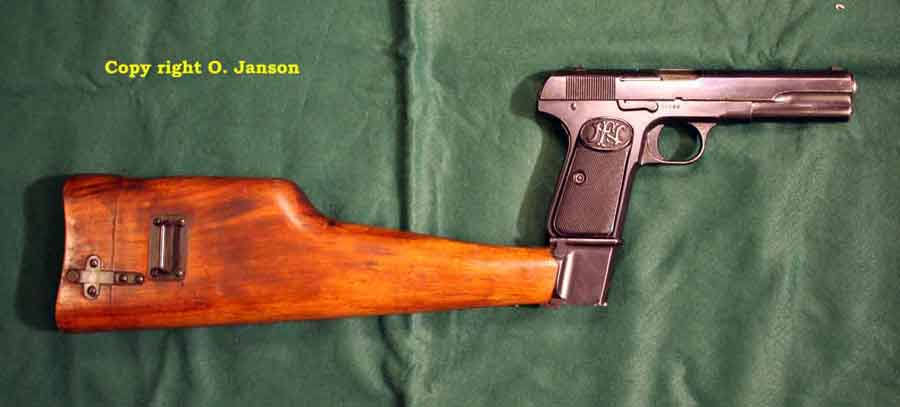 The FN M1903 was also delivered with a wooden stock attached to an extended 10 shot magazine. There are no reports that this type of wooden stock took part in the tests, although there was a very high interest for carbines instead of pistols at that time in Sweden.
FN made the M1903 until 1914, when Germany occupied the plant. After the war up to 1927 FN assembled these pistols from spare parts. Only 58 442 Pistol M1903 were made by FN all together for contracts to Sweden, 5 000 for Russia (which often were equipped with extra wooden shoulder stock - see pictures), Paraguay and Turkey.
Browning M1903 became the winner.
The conclusion of the report was that the Luger was superior concerning precision but the function was less reliable than the Browning M1903. This became very apparent in cold climate.
Some changes had been made: The extractor and the safety had been strengthened. A ring for the lanyard was added at the bottom of the grip.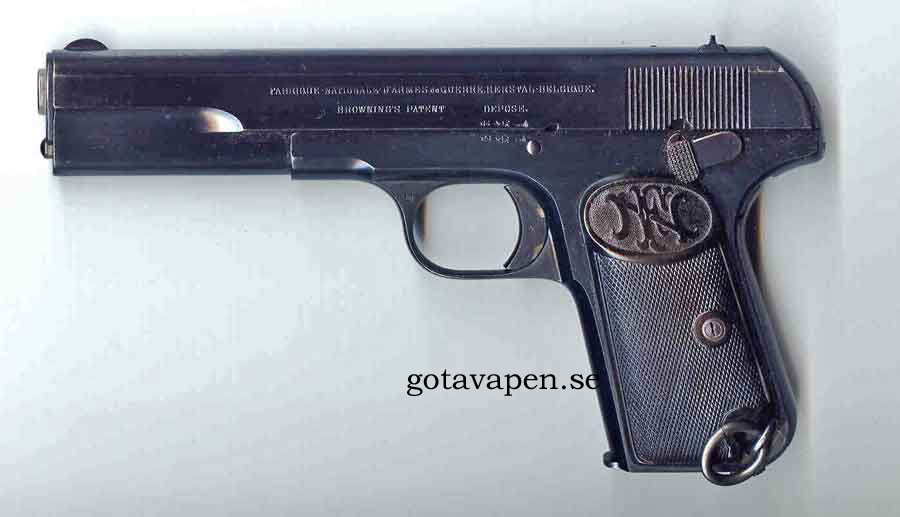 Here is a military contract pistol m/1907 made by FN 1910 for Sweden.
The article continues on Swedish Pistol m/1907 made by FN
Pistol m/07 in 9 mm Parabellum or Luger
The construction was too weak and because of this never accepted.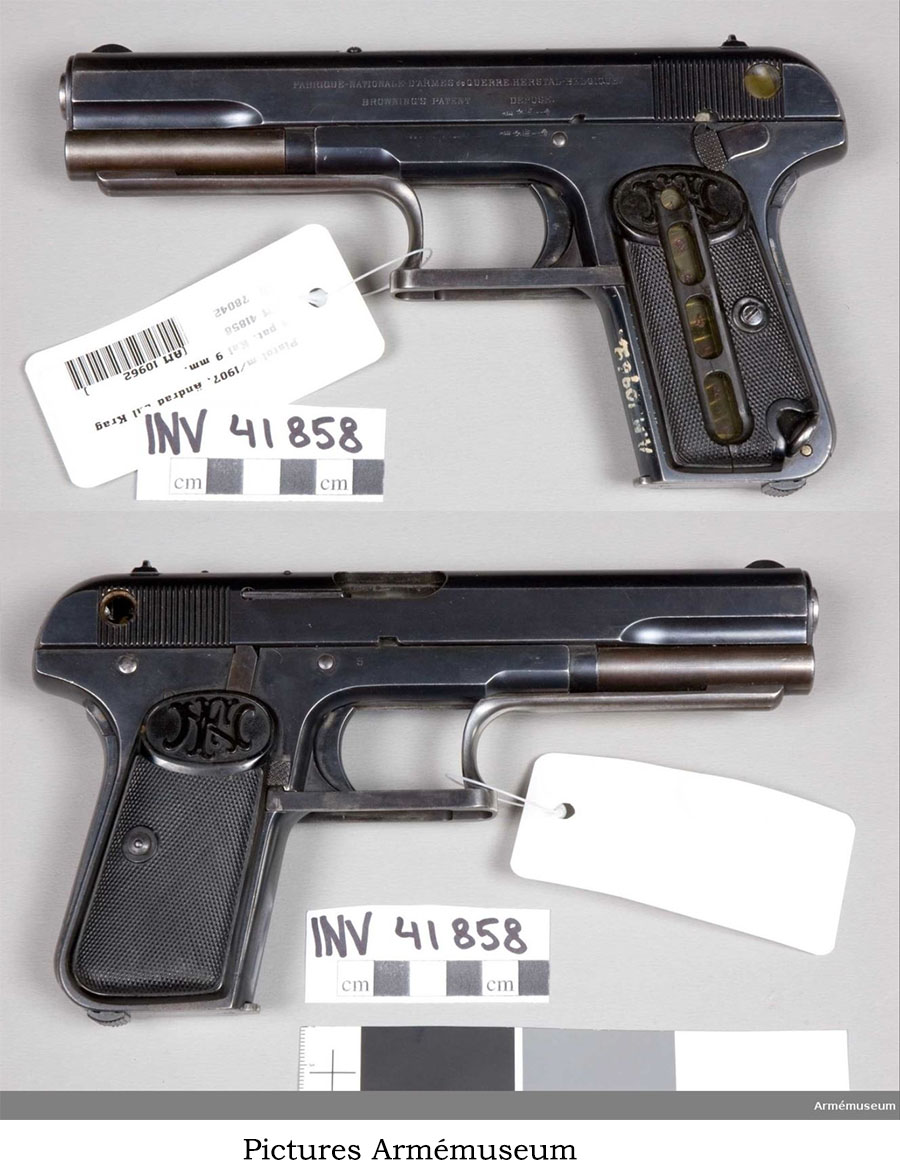 This is a test pistol in 9x19 mm Luger made by Krag in Kongsberg. This pistol trial was never adopted.
---
---
References:
Jimmy Johansson
Sven-Erik Rundberg
Dick Tenbäck
Bengt Johansson
Axel Ekfeldt
Thomas Broborn
Arne Tell, Magazine Vapen
Lars Junberger, Magazine NP
Different Swedish army manuals 1933-1977
Smith & Smith / Small arms of the world. A&W Visual library 1960
---